Key Points to Managing your Dashboard
Once you login to your account you will see your dashboard.
The Dashboard is designed to make it simple for any user to manage their work.
Users can customize their dashboard as well as make multiple dashboards to show different data.
All items on the dashboard are security right driven.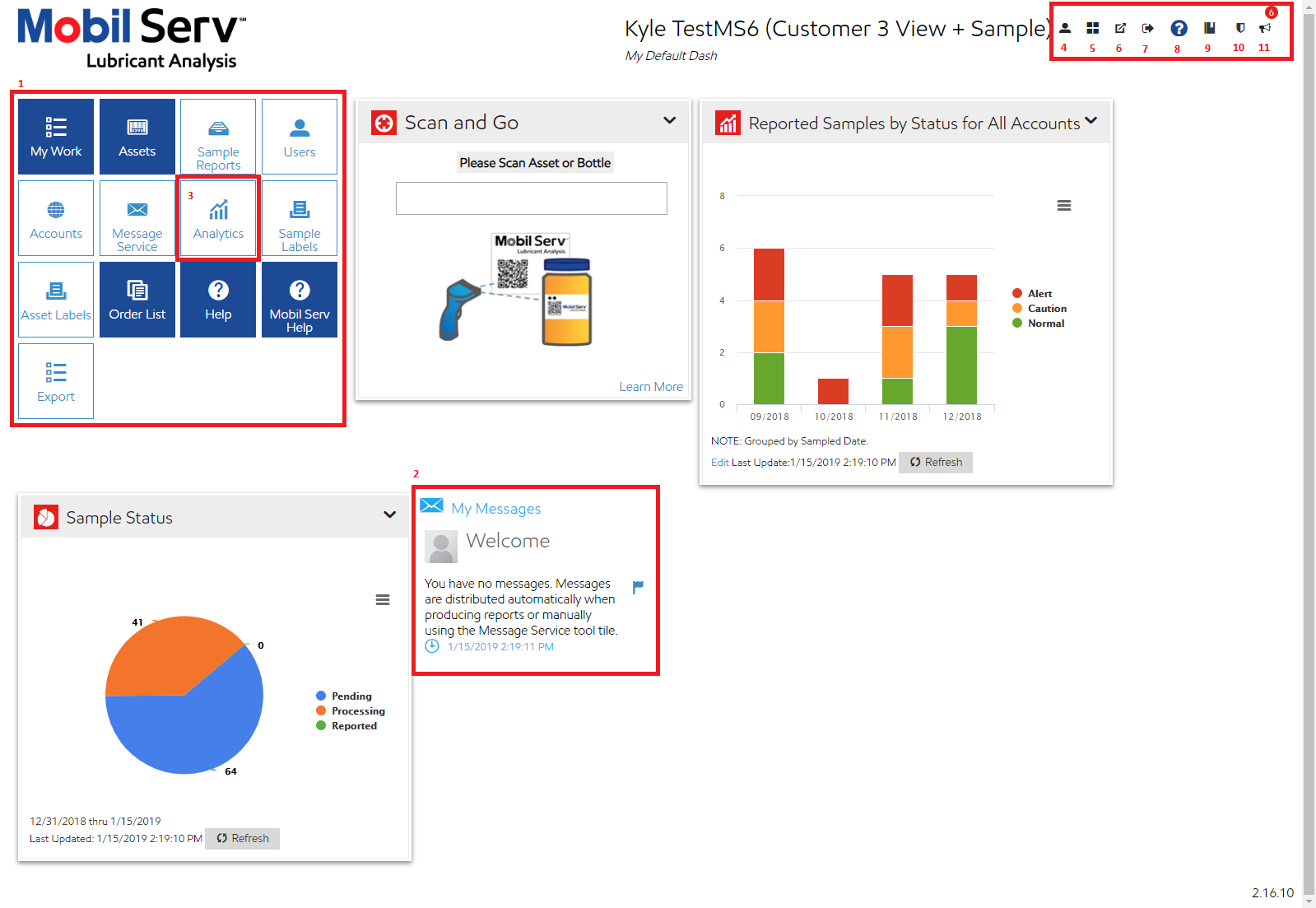 Detailed Description of Dashboard Image
Tools/Icons/Tiles: Users will see specific tiles they have access to based on their security roles and rights. The different tiles allow the user to configure the system as well as perform work, schedule work to be done, etc.

My Messages: This tile displays any messages sent to the user. This may include manual messages sent by another user, videos posted or auto-generated reports where the user is defined as a stakeholder. Once the message is acknowledged, the message is either checked or is removed from the message tile (this is based on configuration).

Analytics: This tile allows users to add charts to your dashboard that can be configured to display aggregated or trended data for completed workflow reports.

User Profile: Takes the user to "My Profile", where you can update your user information and settings.

Add Tiles: Allows for customization of the tiles that are seen on the users Dashboard.

Switch Dashboards: Allows the user to create and select between Dashboards to view. You can create multiple Dashboards for different business needs.

Log Out: The icon will Logout the current user.

Help/Support: The icon of the question mark will bring you to our Knowledge Base where you can browse for answers to your questions or submit a support request.

Terms and Conditions: Select to read the terms and conditions
Privacy Policy: Select to read the Mobil Serv Lubricant Analysis Data Privacy Notice EU
Announcements: Any time there is a system update, a number will be displayed indicating new announcements have been added. When selected, a list of the latest changes with additional detail will display.
Related articles